This Ain't No Hocus Pocus
November 4, 2022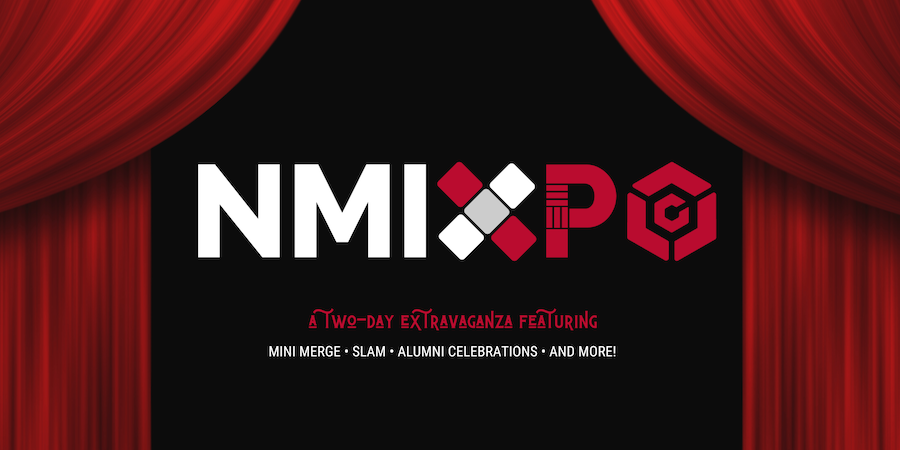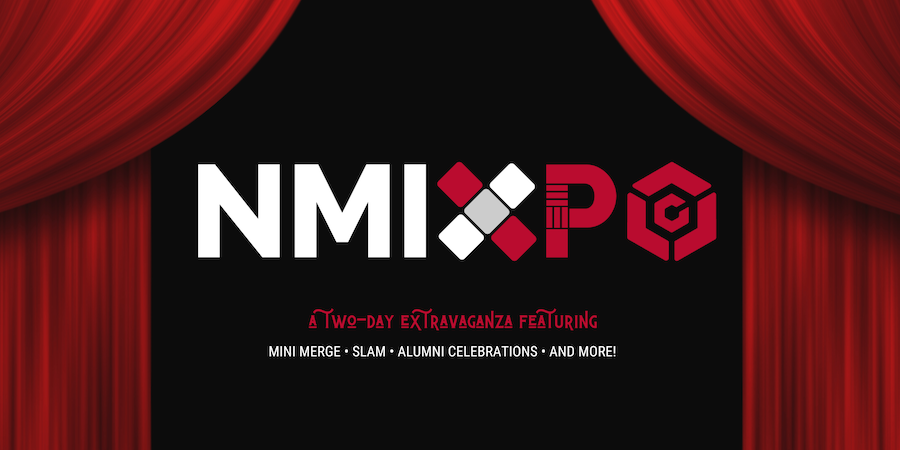 Announcing NMIXpo
The SLAM experience that you know and love is becoming bigger and better! YES, you'll still see unbelievable projects. YES, you'll will get to network with your favorite students and friends. AND YES, it will still be an incredible weekend of connecting, exploring, showcasing, reminiscing, and looking toward the future.
Announcing the elevated SLAM experience (drumroll, please): NMIXpo, a two-day collective in which all of the NMI's end-of-semester features come together. NMIXpo includes Mini Merge, Emerge, SLAM, reunions, and so much more! While each NMIXpo may look slightly different, the heart of NMIXpo will always be centered around showing off students!
---
FALL 2022 NMIXPO
Mini Merge
Friday
December 9
12P – 3P
Hosted every Fall, Mini Merge celebrates the halfway point of Emerging Media Masters Capstone Projects. It is the culmination of the Fall semester where Capstone Betas are debuted. For the first time, we are inviting Emerging Media Alumni to Mini Merge with us and lead the first round of project consultation meetings. In these consultations, each current EM Capstone team will be paired with a set of rockstar EM Alumni. These Alumni will offer constructive feedback, share words of encouragement, and advise on project development and direction.
Alumni serving in a consultation capacity will be invited to Emerge in the Spring, where their team will launch their final 1.0.
EM Alumni, we can't do it without you! Plan now to join us and give back to those following in your footsteps.
📍 UGA Delta Innovation Hub | 210 Spring Street
---
EM Reunion
Friday
December 9
6:30P – 8:30P
One of the best benefits of EM is the close-knit family experience that continues long after graduation. Our vibrant and growing alumni family is more than 60 strong and eager to connect with current students. Whether you graduated five years ago with the inaugural cohort (shout to the OG crew) or from the online pathway just a few months ago, it's time for all the Emerging Media Alumni to come together! We're ecstatic to swap stories, savor yummy bites, and catch you up on the future of EM!
📍 Cine | 234 West Hancock Avenue
---
Certificate Challenge Brunch
Saturday
December 10
10A – 12P
We're always looking for ways to make things work, then work better. For the first time ever, we're calling on the expertise of Emerging Media Alumni and the NMI Advisory Council to ideate the next generation of Capstone Projects! Enjoy brunch at this collaborative brainstorming session dedicated to bringing new perspectives to NMC Capstone Projects. You might see your big idea debuted at NMIXpo in Spring 2023 or published in the App Store!
📍 UGA Delta Innovation Hub | 210 Spring Street
---
SLAM
Saturday
December 10
12:30 – 5:00P
Hosted every semester, SLAM features New Media Certificate Capstone creations. Everyone is invited to this can't-miss day dedicated to student projects that take innovation and creativity to the next level. As always, SLAM will kick off with the student showcase at the Delta Innovation Hub, but this semester we're inviting everyone on a short walk back to NMI HQ. At the NMI, happy hour will be complete with certificate ceremonies, award honorees, and a tour of our recently upgraded spaces.
📍 UGA Delta Innovation Hub | 210 Spring Street
📍 New Media Institute | 120 Hooper Street
---
Hotel Block
Courtesy Block:
NMIXpo
Want to stay near all the fun? Located on the edge of campus and downtown, SpringHill Suites is within walking distance of the Delta Innovation Hub plus all the eats and entertainment Downtown Athens has to offer. Act fast—to reserve a room in the block, make your reservation by Wednesday, November 9.
📍 SpringHill Suites | 220 South Hull Street