New Faces and New Spaces
September 23, 2021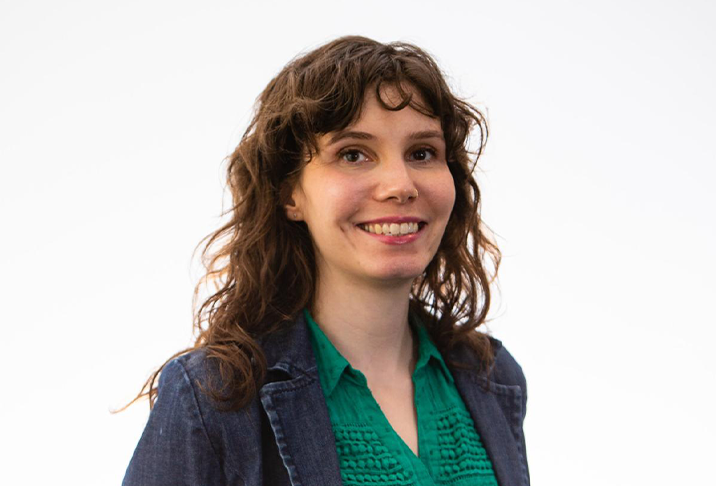 Welcome to another exhilarating semester at the New Media Institute! The past month has been a whirlwind of activity: the Dawgs are undefeated (knock on wood), classes are officially six weeks underway, we've welcomed several new (well, newish) faces to the team, and last but not least, we've unveiled major updates to our student-facing spaces. Without further ado, here's a tour!
📚 Kyla Sterling • Faculty Advisor, Emerging Media Online Masters
Recent alumni know and love Kyla from her time spent advising and teaching in the New Media Certificate. Having passed the NMC torch to Tyler, Kyla is busy prepping to take over as Faculty Advisor for the Emerging Media Online Masters later this year. With the Emerging Media Online pathway doubling in size (see details below), Kyla will be advising EMO students, providing leadership to EMO faculty, and coordinating professional programming for our students taking advantage of this virtual learning environment. In her spare time, she can be found teaching basic HTML to Baby Sterling (<nap> pleasebabysleep </nap>)
🍄 Leah Moss • Faculty Advisor, Emerging Media & Double Dawgs
Once the Mother of Drones, Leah has been serving as Mother of EM for the last few years. However, starting this year, Leah will direct her efforts to the residential Emerging Media Masters and ever-expanding Double Dawg pathways. Leah will be narrowing her focus to providing a high-quality on-campus experience for students living in the Classic City. When she's not teaching design and UX, Leah is hanging out at Canopy Studio (literally) and playing with her corgi, Pixel.
🏊 Tyler Mazurek • Faculty Advisor, New Media Certificate
Graduate Assistant by Spring, Instructor by Fall, it's everyone's favorite Double Dawg, Tyler! Tyler joined the team in August as the New Media Certificate Faculty Advisor and instructor for production and capstone courses. In addition to our existing Certificate offerings, Tyler will be overseeing the launch of the Graduate New Media Certificate, new course offerings (stay tuned for details), and expanded industry-focussed programming. Outside of the computer lab, Tyler spends his days swimming laps, slinging discs at Sandy Creek, and gaming on his Switch. Welcome to faculty ranks, T-Dizzle!
☕️ Esther Kim • Assistant Curator, TEDxUGA
Last but not least, a huge welcome to the newest member of 403C, Esther! As Assistant Curator for TEDxUGA, Esther oversees many of our TEDtastic initiatives. With 2022 on the horizon, Esther is already busy curating our WONDERful presenters as TEDxUGA prepares to take the stage for the first time ever at Morton Theatre! Though she only just recently joined the NMI, Esther has quickly become an integral part of the fam. When not adjusting to life on the 4th floor, she's swimming laps at Ramsey or sipping a chai tea latte.