Food Access Athens
May 7, 2021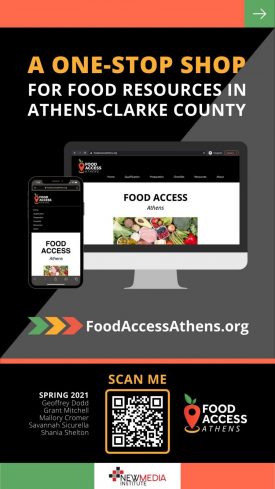 Applying for SNAP benefits is a difficult and often inconvenient process for most low-income Americans. Applicants not only must provide a wealth of documentation upfront, but must face a number of obstacles to enrollment and recertification. This inefficiency is one of many reasons behind a systemic underutilization of SNAP and WIC programs in Athens-Clarke County. Food Access Athens aims to bridge the gap in unclaimed funding by providing a number of resources to simplify the application process, determine eligibility and connect residents with community food efforts.

The website is comprised of four distinct components: a quiz to determine eligibility, a preparation tab to display all relevant information to the application process, a printable checklist for required documentation, and a food resources tab. Updated weekly, the food resources tab features a list of meal distribution sites and mobile food pantries within the county for those in need of immediate food resources. The website includes information for all types of applicants in Athens-Clarke County, from low-income single mothers and retirees to graduate students and part-time workers.

The website was created in close collaboration with Envision Athens and three of Athens-Clarke County's Neighborhood Leaders.