Changing the Culture Behind Concussion Reporting
September 1, 2017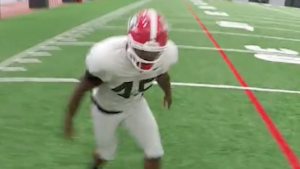 Concussions are a growing problem in athletics across all types of sports, and convincing athletes to report these incidents and symptoms when they occur has proven to be quite the challenge. The NCAA and the Department of Defense recognized this issue and decided to do something about it. Offering a series of eight grants to various institutions, the organizations selected a team from UGA comprised of Kinesiology, Psychology, Education and the Athletic Association to take on this challenge. Led by Dr. Welch Suggs from Grady Sports Media and Dr. Julianne Schmidt from the Department of Kinesiology, the collaborating departments were awarded a $399,000 grant to try and change the stigma around concussion reporting.
This Summer, Chris and John teamed up with Dr. Suggs and Dr. Schmidt to create a digital solution for this threatening problem. Together, they designed and developed an interactive, video-based web application that provides athletes a personalized glimpse of what it would be like to deal with a concussion. The video experience is tailored to each student-athlete based on his or her sport and how they might choose to handle the injury. Using the app, each user can witness the effects of a possible concussion and view possible outcomes from choosing either to report or to conceal their symptoms.
This first-person video module is designed to provide athletes a personalized visual experience that highlights the benefits of reporting the injury and the consequences of keeping it a secret. Throughout the coming year, the application will be administered to all student-athletes at three different universities. With the development contributions from Chris and John, as well as the continued efforts from Grady Sports Media and Kinesiology, this app could be a big step in the right direction in changing the culture around concussion reporting.