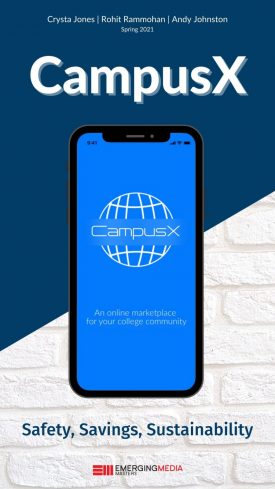 CampusX is a mobile-based marketplace that offers affordability and accountability for your college community. Students, faculty, staff, and alumni with a valid .edu email account can sign up to buy, sell, and trade items ranging from clothing and home decor to electronics and used textbooks.

This iOS application is a secure and safe mediator for peer-to-peer (P2P) transactions. With easy-to-view user profiles, CampusX helps combat the anonymity of other online marketplaces, which provides peace of mind for both buyers and sellers. CampusX is not only safe, but also convenient, quick, and affordable to buy from a fellow student or professor at their college or university.

Buyers will start on our easy-to-navigate product page, find what they want to buy, and then securely message the seller. Sellers will find it simple to list their products, add photos, and land a buyer. Both buyers and sellers can then agree to meet at one of our recommended Safe Zones, well-lit and well-traveled areas on or near campus.

CampusX is great on users' wallets and their peace of mind, thanks to its affordability, access, and accountability.