Billy's Sweet Wish
May 1, 2012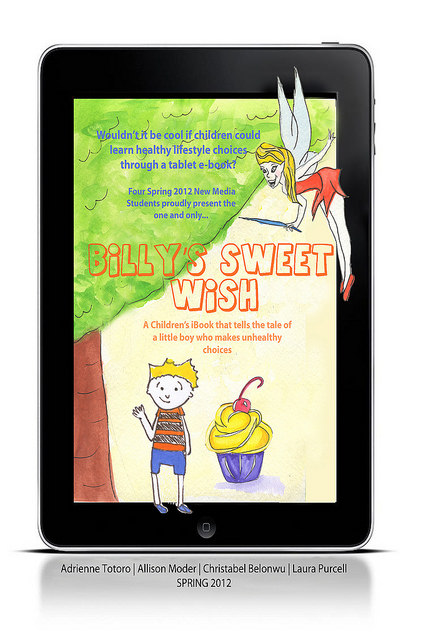 Many people wish children can have instructive and fun way to help them learn healthy eating habits. Now, that wish is a reality with Billy's Sweet Wish, the New Media Institute's implementation of Apple's iBooks technology and Tumult Hype software. Children will be able to enjoy a story with interactive animation, all working to send positive messages about healthy lifestyle choices. With this technology, children have the capabilities to tap on certain illustrations, interact with animations and watch educational facts appear.
Billy's Sweet Wish is an ebook which tells the story of a boy named Billy. The reader follows what happens when Billy meets a fairy who grants him one wish. Billy thinks he knows exactly what he wants, but soon events blow out of proportion. Will Billy's life ever return to normal? Billy learns special lessons about healthy lifestyle choices and to be careful what you wish for — because it just may come true.
Unlike a normal story book, the ebook allows children to not only enjoy a great story, but also other state-of-the-art technology, making the learning process as engaging as possible. They will have animations to discover throughout the book. Also, health tips and facts will pop up in illustrations. This experience opens a whole new chapter to the world of learning and brings an element of discovery to the reader. Billy's Sweet Wish is a great way to introduce pre-K to elementary age children to healthy lifestyle choices that can last a lifetime!