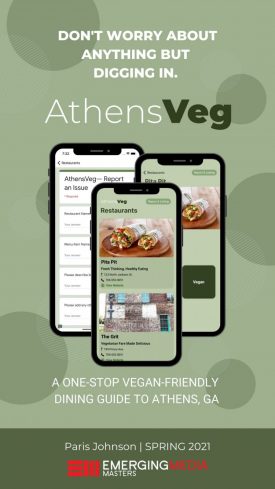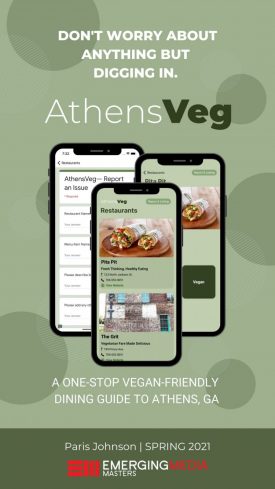 Athens, GA may be a great place to find classic southern cuisine, but that doesn't mean that its community doesn't crave more than your everyday barbecue. Anyone who has experienced the struggles of following a vegan diet when dining out is well aware of how difficult it can be, especially in a small town like Athens. With a steady vegan population and a multitude of college students simply looking for healthier and more ethical food options, a simple and easy-to-use vegan dining resource couldn't be more needed. Say hello to AthensVeg.
AthensVeg was created to address the need for an easy and accessible way for Athens consumers following a vegan or plant-based diet to find dining options that accommodate them in Athens. It's offered as a mobile app, and it provides a quick and easy-to-use resource for vegan-friendly dining in the Athens area. Long gone are the days of scrolling through Yelp reviews and zooming into restaurant menus before eating out with friends. AthensVeg allows its users to browse the wide array of plant-based options that Athens has to offer. The app also allows restaurant-goers to share their thoughts and contribute information about Athens restaurants.
AthensVeg gives consumers a mobile resource that is easy to turn to when making dining plans. It eases the challenges that can come with following a plant-based lifestyle and allows users to eat out without stress. With AthensVeg, there's no need to worry about anything but digging in.