Athens Farmers Market
May 15, 2020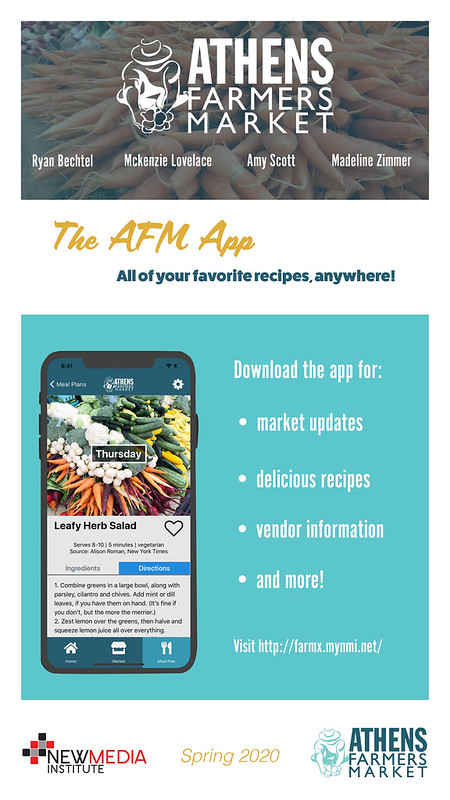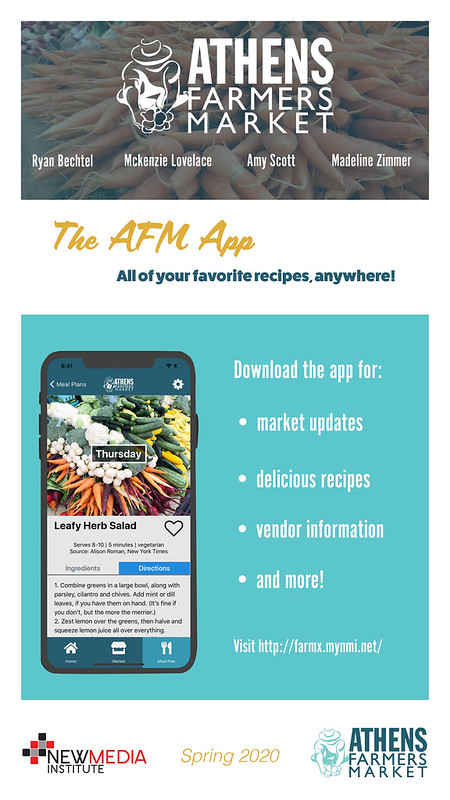 The Athens Farmers Market wants to make healthy food a plausible reality for every citizen in Athens. This is possible through their weekly markets at Creature Comforts on Wednesday, as well as at Bishop Park on Saturdays. In the wake of COVID-19, the market has moved completely online, with vendors now selling their produce in association with Collective Harvest, making the web presence more important than ever.
With over 80 vendors, selling everything from fresh produce to pasta, they have quite the selection. However, fresh and healthy produce is rather expensive, which is why they've instituted the program, called Food As Real Medicine, FARM Rx. The FARM Rx Program promotes affordable access to fruits and vegetables and healthy eating in underserved communities through partnerships with local healthcare providers, community organizations and the Athens Farmers Market.
In order to make this program even more successful than it already is, the Market needs a website that communicates their goals, encourages community members to donate and volunteer, and prompts insurance companies to provide financial support in order to provide the low income and elderly people of Athens with fresh and healthy food. That's where we come in! We were tasked with redesigning their website and building an app for the Athens Farmers Market to raise awareness of the Market in general, as well as the FARM Rx program in order to gain the support of the community, as well as financial help from those able!
The website is beautifully constructed on WordPress, promoting easy access to recipes, market information, as well as the market's programs, such as SNAP and FARM Rx, the original goal of our project. To further their online presence, we constructed an app. On the app, users will be able to experience this virtual market in their daily life. Most notably, the app will serve market-goers and FARM Rx participants with healthy recipes and how to incorporate the market's fresh produce in these recipes. In all of our work, we want to spread awareness of not only the Athens Farmers Market, but the FARM Rx program, to the people of Athens, patrons of the markets, and potential sponsors of the FARM Rx program. With a larger digital presence, an increase in funding and sponsorship to the market and FARM Rx program is inevitable.