App Clips
December 11, 2020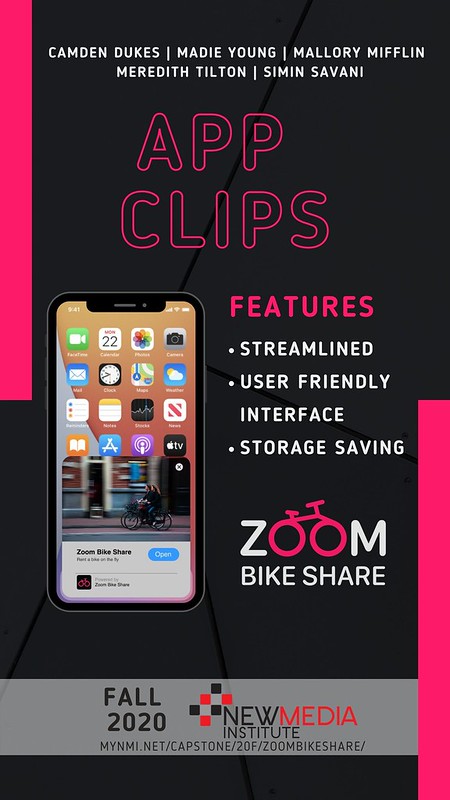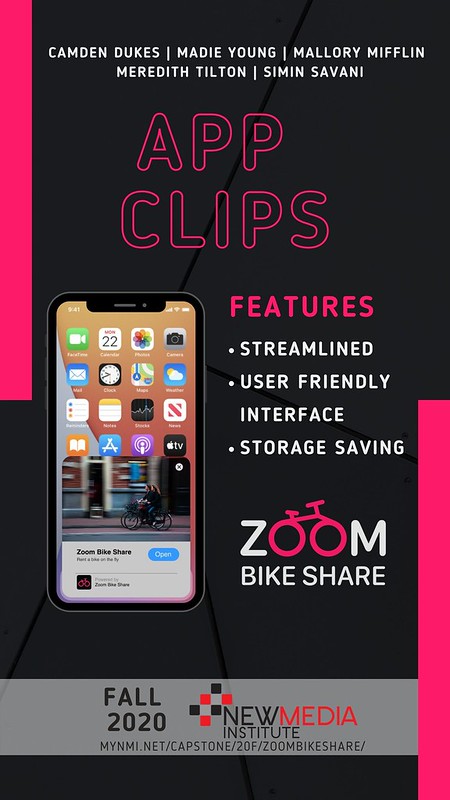 App Clips offer an easier, quicker, and more effective way to complete simple, day-to-day tasks. App Clips are a streamlined, task focused part of an app designed to show up when you need it, and disappear when you don't. Imagine you park in a parking garage just to find out you need to download an entire app just to pay. Months go by and the app you downloaded for a one time use is just sitting on your homescreen collecting dust. Or that you have always wanted to ride a rental scooter or bike but haven't because that means you have to download the app. That is now a thing of the past. With App Clips, all you have to do is scan the Near Field Communication(NFC) tag and the part of the app you need will show up on your screen.

Our team has developed the framework of an App Clip for bike and scooter rideshare apps. We have created a mock rideshare company, Zoom Bikeshare, that has an existing app customers use to rent a Zoom bike. We are using this mock company to show the seamless integration of App Clip technology into already existing apps. Our App Clip is meant to make the process of renting a scooter or bike easier, quicker, and more seamless. With the use of "Sign in With Apple" and "Apple Pay" this process will be as quick and easy as deciding not to rent a scooter or bike at all.

The app clip will then be in the consumer's app library for the duration of riding the bike and then 24 hours after. Once the 24 hours is up the app clip will delete off the consumer's phone until they scan the NFC tag again and the App Clip pop back up on their phone. This technology will create an increase in first time users of any rideshare app because the deterrent of having to download the app to ride the scooter or bike will be a thing of the past.