We're Feeling Eerie-sistible!
November 4, 2022
"Oh look, another glorious news [post]… makes me SICK."
— Winifred Sanderson, Hocus Pocus
For many of us, the stuff of nightmares isn't skeletons, monsters, or things that go bump in the night. It's… (suspenseful music please)… public speaking!
Here at the New Media Institute, we're all about harnessing the power of storytelling, despite how scary it might be. With this in mind, fearless faculty and friends rose to the occasion to inspire audiences across campus.
The secret to speaking in front of an audience? Be scared and do it anyway! After all, isn't facing your fears the real meaning of the Fallidays?
Abracadabra, Active Learning is Magical
John Weatherford spoke at the Grady College of Journalism and Mass Communication's Lunch and Learn series along with a panel of other frightening faculty. "Busy Work or Deep Learning? A Lightning Round with Active Learning Experts," was dedicated to the application of active learning in college classrooms—something we're pretty passionate about around here! Each panelist had trained on active learning best practices, successfully implemented them, and shared all their tried and true tips and tricks.
Touchdown for Megan
Each year, high-achieving UGA athletes are inducted into the L.E.A.D. Academy. L.E.A.D. equips UGA's most promising student-athletes with leadership development resources necessary to compete for top conference and national awards and postgraduate scholarships. The 2022 L.E.A.D. Academy features 71 athletes all navigating the early days of the NCAA's NIL (Name, Image, Likeness) changes. As they each embark on their new leadership journey they will have ample opportunity to share their story—the story of being a student, an athlete, a leader, and more. Stories that will be shared with audiences here on campus and far beyond. And who better to serve as their navigator than our own expert storyteller Megan Ward.
Megan was invited by the UGA Athletic Association to be the keynote speaker for the 2022 L.E.A.D. Induction Ceremony. Held in Sanford Stadium's beautiful West End Zone, Megan encouraged these incredible student-athletes to fearlessly craft their stories so that their time in the spotlight was dedicated to connecting with those standing in the shadows. As Megan does day in, day out in the classroom and with TEDxUGA presenters, she reminded these new inductees that stories are a catalyst for meaningful change and that harnessing the power of storytelling is an invaluable skill set for personal, professional, and academic growth. Megan, we can't think of anyone more fitting to inspire these storytellers!
Potions, Pumpkins, and Panels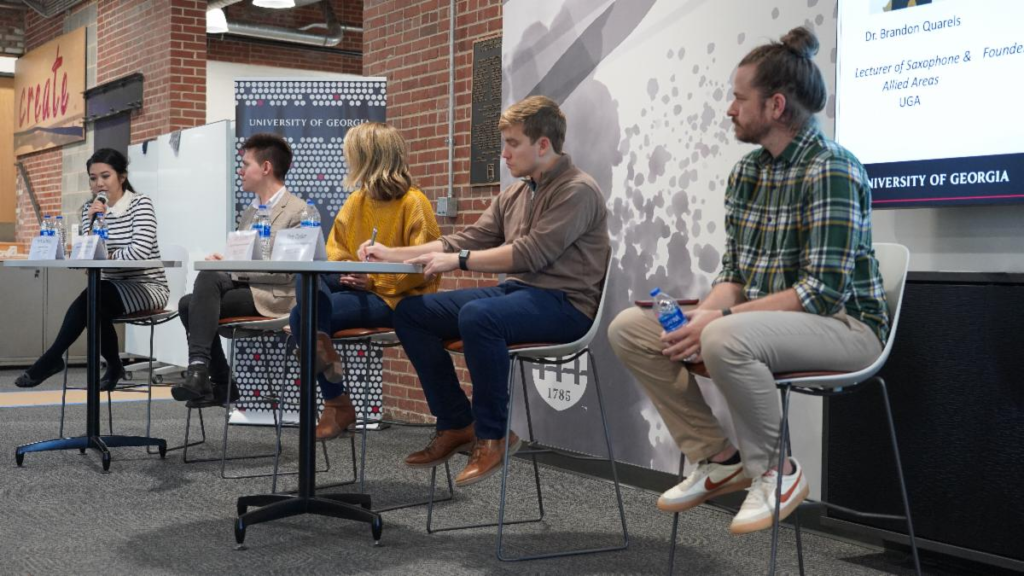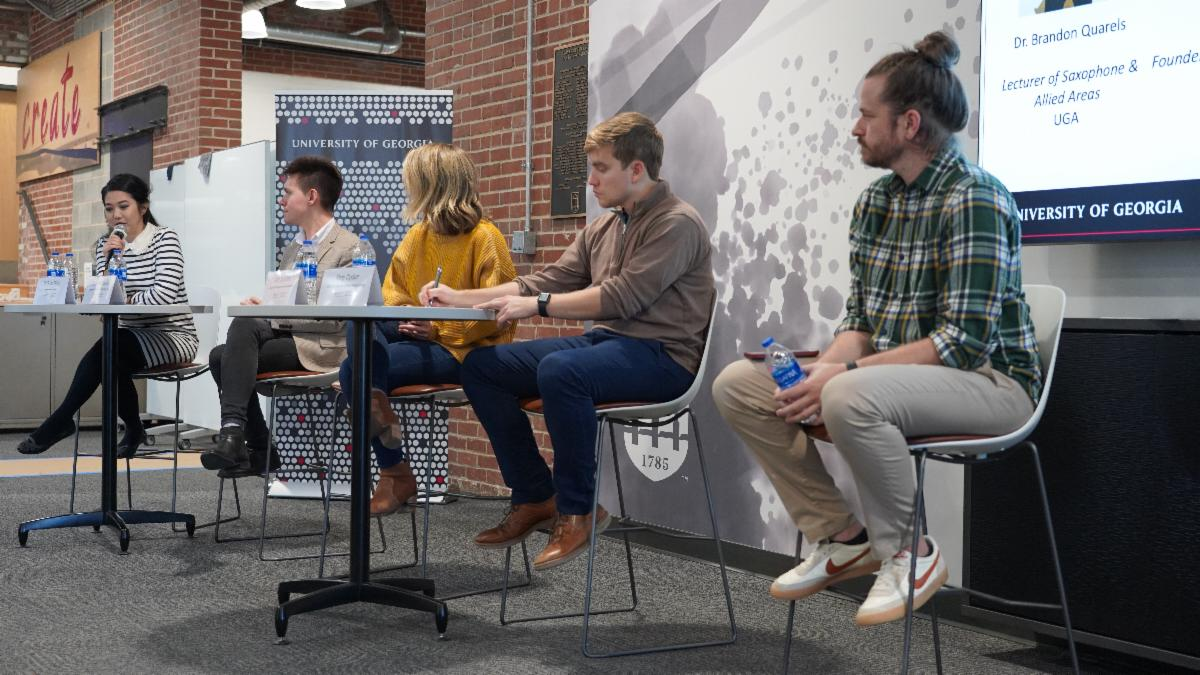 UGA's Innovation District is currently hosting a Bootcamp for Creatives. Over the course of seven sessions the cohort explores the basics of commercialization and targeted skill-building, and receives one-on-one support from experienced coaches.
Each session is dedicated to a specific topic, and the NMI took the spotlight for a panel focused on branding and marketing.
Chris Gerlach served as moderator for an incredible lineup of panelists that addressed the unique challenges related to branding and marketing commonly faced by innovators and entrepreneurs in the creative industries.
NMI Alum and Advisory Council Member, Shep Ogden, served as a panel expert. Shep is the CEO and co-founder of Offbeat Media Group, an Atlanta-based social-first company dedicated to disrupting traditional and social media marketing industries.
As the Innovation District continues to thrive, the NMI looks forward to facilitating more connections between our esteemed Advisory Council, alumni, and up-and-coming entrepreneurs. If this sounds right up your alley, look for further opportunities coming down the pipeline!
Tech or Treat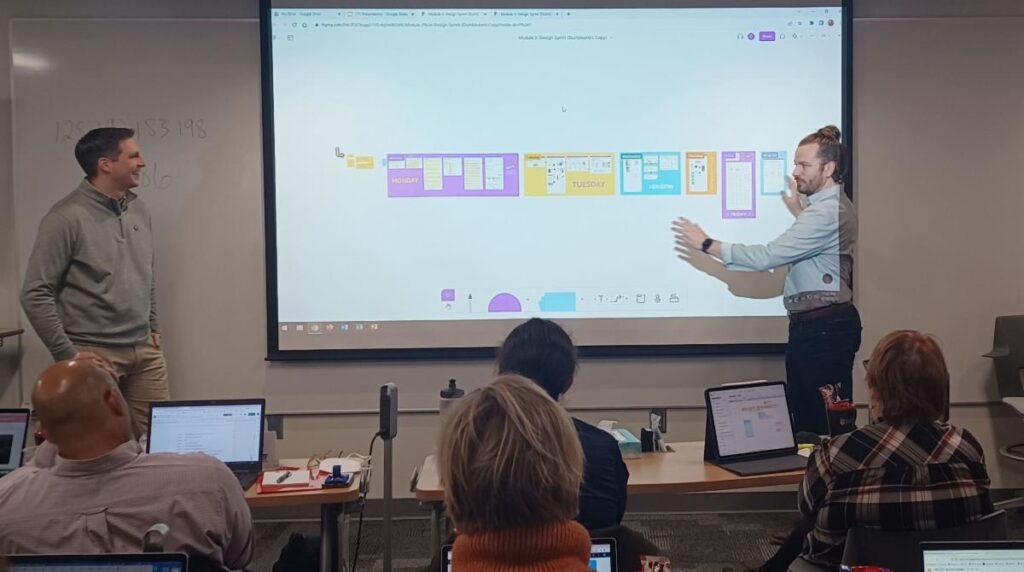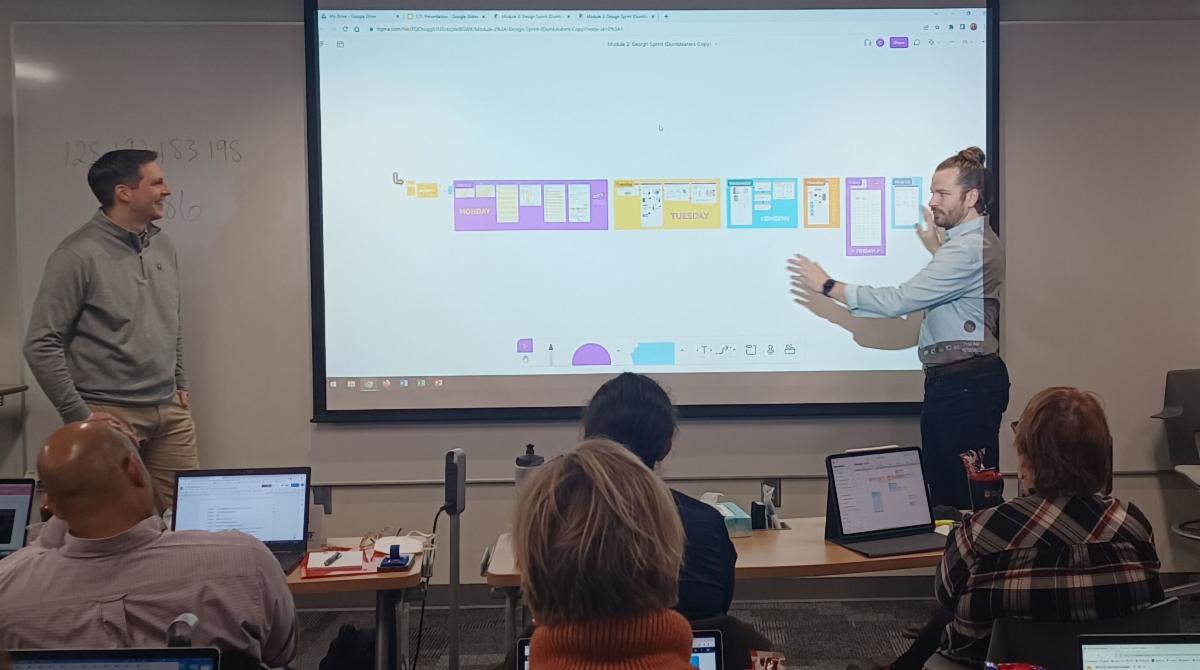 UGA's Center for Teaching and Learning and Office of Online Learning hosted a meeting of the Learning Technology Consortium, a collaboration among universities with common interests and challenges in learning and teaching with technology. This group brings together representatives from ten schools, all engaged with learning technology on their campuses.
During the three-day meeting, UGA highlighted some of the different ways in which technology is used around campus to enhance the educational experience. As leaders in this space, the NMI was asked to join the conversation.
John Weatherford and Chris Gerlach showcased the work being done by the NMI, discussing both the challenges and opportunities related to tech and education, and offering insights into the future of tech in classrooms.